Moburst Acquires Layer to Strengthen Its Web Development and Digital Transformation Capabilities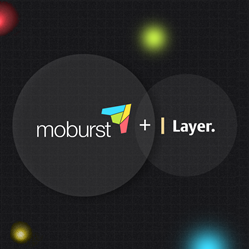 We are happy and excited to join the Moburst family knowing that together we will build an extraordinary agency that can truly serve international clients of all sizes.

NEW YORK (WEB PR)
June 30, 2022
Moburst, a full-service, mobile-focused digital marketing agency, announced the acquisition of Layer. Digital studio, a digital development company that provides UI/UX and web, mobile and app development services. As part of the agreement, the Layer team, customers and major lines of business will integrate Moburst's offerings.
Layer was founded in 2015 by Nir Lewinsohn and Ofir Shuv, and works with leading brands in Israel, including Nissan, Renault, Egged, Tel-Aviv Yafo, KPMG, Sodexo and Bezeq. Layer brings to Moburst a high level of development experience and a deep understanding of UI-UX and data-driven results.
Together, Moburst and Layer will enable a complete solution: design, develop, market and optimize the entire digital marketing experience on web and mobile platforms. This combination will not only improve the offerings for our current customers, but will open up new opportunities for current Moburst and Layer customers.
"After working closely with Layer on a few projects over the past year, we knew right away that as we expanded our offerings, we wanted the Layer team to be a part of it," Gilad said. Bechar, CEO and founder of Moburst. "They are a talented team and bring a lot of creativity and expertise, which will help us better serve our customers on a daily basis."
Founded in 2013, Moburst has grown over 300% in the past two years to become a leader in digital marketing. The acquisition of Layer follows the acquisition of Clutch Studio in 2019 and aims to expand Moburst's service offerings and reach. Moburst helps companies evolve and become leaders in their category. "We love solving customers' tough digital challenges and strongly believe that creative thinking, cutting-edge technology and data are key drivers for success at scale," said Lior Eldan, co-founder and COO. "Our job is to deliver creative and innovative solutions that connect brands with highly targeted audiences that turn into high-value, long-term users."
"We worked closely with the Moburst team on their new website and quickly realized that this was not just another agency," said Nir Lewinsohn and Ofir Shuv, "We are happy and thrilled to join the Moburst family knowing that together we will build an amazing agency that can truly serve international clients of all sizes."
Moburst has offices in New York, Tel Aviv, London and San Francisco.
Share the article on social networks or by e-mail: