Scooba campus will feature computer networking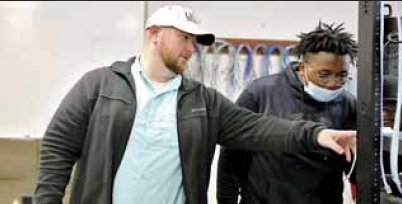 From school reports
Starting this fall, students will be able to enroll in Computer Networking Technology at East Mississippi Community College's Scooba Campus.
Classes for the two-year Associate of Applied Science program begin in August.
"Although the concentration is on computer networking technology, students will be exposed to a variety of different computer science courses, from networking to computer hardware, and from programming to database management," said the program instructor Jordan Miller. "The intention is to help students develop a path to a career based on their interests."
Students in the program, which can be completed in four semesters, learn to build computer networks from scratch. The course includes instruction on computer protocols, operating systems, hardware components, network devices, and software, among others.
Students in the program also earn professional certifications. After their first year, they will pass the CompTIA A+ certification, which is globally recognized in the computer industry. In the fourth semester, they will take the CompTIA Network+ certification exam.
The program has been taught at EMCC's Golden Triangle campus for some time and has proven popular.
"We are thrilled to bring the program to our Scooba Campus," said EMCC Dean of Education for the Scooba Campus, Dr. Jairus Johnson. "Demand is high for graduates in the fields of computer science and information technology, and this will provide our students with another excellent educational opportunity."
Students interested in enrolling in the program will need to take the WorkKeys assessment and achieve a minimum silver score.
Miller is a 2014 graduate of the program who attended school at EMCC's Golden Triangle campus. He continued his studies at the Mississippi University for Women where he worked for more than six years in the computer science department.
"Having worked in the field, I know how important it is for students to get hands-on experience in the classroom so they'll be prepared once they enter the workforce," Miller said. "As an instructor, this is a priority for me."
Starkville resident Samuelle Drain is enrolled in the Computer Network Technology program at EMCC's Golden Triangle campus. She was working in the music and business industries in Atlanta when she took a job helping train hospital staff to use newly installed software.
"They taught us the system and put us in a classroom with doctors and nurses and we had to teach them how to use the software for their job," Drain said. "I fell in love with it, but I knew I needed a degree to go further."
Drain said she chose networking because she felt it was the most versatile of computer programs.
"It gives you a lot of career options," Drain said. "They pretty much equip you to handle everything. It provides training in all areas of IT.
For more information about the program or to register, email Miller at [email protected] or program advisor Dr. Renyetta Johnson at [email protected]