Top 7 Web Development Trends To Expect In Fall 2021
Ready to innovate with your web development project but don't know what to expect in the coming months? Indeed, web development trends change every year. For decision-makers, being aware of technology trends is crucial to keeping up with the competition.
To save time, we researched modern technology trends in the IT industry, analyzed market demands, and prepared a list of 7 web development trends for fall 2021.
Voice user interface
Hey Siri… Where to go out today? What is the trend today? Every day, millions of smartphone users turn to voice assistants for help or search for things on Google using the voice search feature. Voice assistants and smart speakers use text-to-speech, speech recognition, and natural language processing to recognize and respond to voice commands. People are getting lazy more and more, which is why hands-free voice technology is the one that will make our lives easier. While the technology is not new to the digital world, the trend will always be right for users and make your business stand out. Juniper's latest study estimates that there will be 8 billion digital voice assistants in service by 2023.
User experience with VR and AR
Augmented reality and virtual reality are not just overblown trends; they mean more to business owners than they realize. Innovations can dramatically improve your websites or web platforms, delivering more immersive and interactive experiences to your consumers. Although the implementation of augmented reality and virtual reality is now more popular in e-commerce with its trials, other industries can benefit from it as well. For example, travel agencies, real estate agents, or museums may consider self-guided virtual tours.
AI Chatbots
According to the Drift Insider report, 32% of sellers have used automated chatbots more since the start of 2020. This may be influenced by the huge 92% increase in the number of buyers using chatbots to communicate with businesses. With the rise of online shopping, especially during lockdown related to COVID-19, this technology is helping sellers be more productive. Why? Based on machine learning algorithms, chatbots are trained to recognize specific data patterns in order to help shoppers buy by answering questions, directing traffic to key destinations, and more. On the one hand, salespeople can focus their skills on selling to more interested customers or dealing with more complex business tasks. On the other hand, they have the ability to offer a 24/7 shopping experience to their customers. Thus, the adoption of automated chatbot software on the sales and buyer side creates an environment for empowered buyers and sellers.
Progressive web apps
PWAs aren't a new trend in 2021 either, but they could replace web application development in some industries, and here's why. According to a study by Statista, in the first quarter of 2021, 57% of retail orders were generated by smartphones, while 40% – by desktops. With the growing number of online tasks performed with mobile devices, it is essential to reorganize native apps into PWAs. Why are PWAs trending in fall 2021? Most developers aim for it because of their high quality user experience and compatibility with mobile devices. In addition, developing and maintaining PWAs becomes cheaper for investors. Thus, there is no doubt that the demand for PWA will increase by the end of 2021.
Personalization of content through machine learning
Artificial intelligence affects almost all modern industries, ranging from e-commerce to entertainment. With ML algorithms, consumers will benefit from more personalized services, and with an advanced approach, they can even be individual. One of the noteworthy examples is that Netflix uses a predictive content personalization approach to deliver content and search results based on user intent. This is just one of many examples of the power of AI, and ML in particular. The implementation of natural language processing and image recognition improves the user experience in many ways. By interpreting data and making decisions in real time, websites, platforms and web applications become smarter.
Motion design
Minimalist design and movement functions have been in fashion since last year. Modern consumers expect not only fast, mobile-friendly apps, but more interactive experiences as well. Website elements like header transitions, animated graphics, or modular scrolling will improve UI / UX by entertaining users while improving behavioral factors. To increase user engagement, motion UI techniques will allow you to guide users through your app with animations, react to user behavior, and more.
More attention on cybersecurity
Cybersecurity is still important in the age of digitization. According to Cloudflare, the number of DDoS attacks nearly doubled every quarter in 2020. Nonetheless, DDoS attacks aren't the only potential dangers to your web services. For this reason, web service providers should focus on data protection even more than a year ago.
Here are some tips that will help you keep up with cybersecurity trends:
Perform security testing during the development phase to eliminate data leaks and vulnerability to cyber attacks.

Encrypt your data to make it harder to extract, even if a hacker breaks into your database.

Use AI-based security features like biometric authentication, etc.

Consider blockchain for database security; in 2021, it could become an effective security tool for web solutions.
In a word
So, 7 web development trends for the coming fall are as follows:
If you are planning to update your web development project or start a new one, it's a great idea to take a look at the latest trends before contacting a web development company.
Related Articles
How Siri "really" works
Siri is dishonest, Alexa Caring and Google Professional
We need to talk about Alexa
The ground is moving!
Walk a thousand kilometers in virtual reality and never leave the room
Release of a toolbox to reduce the VR cyber-sickness
Chatbots for e-commerce
Progressive web apps seem like the next big thing
Five Inexpensive Ways To Improve Your Ecommerce Website Security
To be informed of new articles on I Programmer, subscribe to our weekly newsletter, subscribe to the RSS feed and follow us on Twitter, Facebook or Linkedin.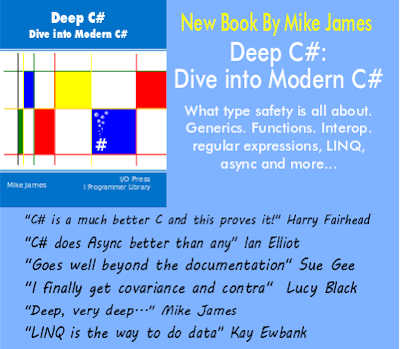 comments
or send your comment to: [email protected]