Zoe Adkins: The Story of My Growth from ClickThrough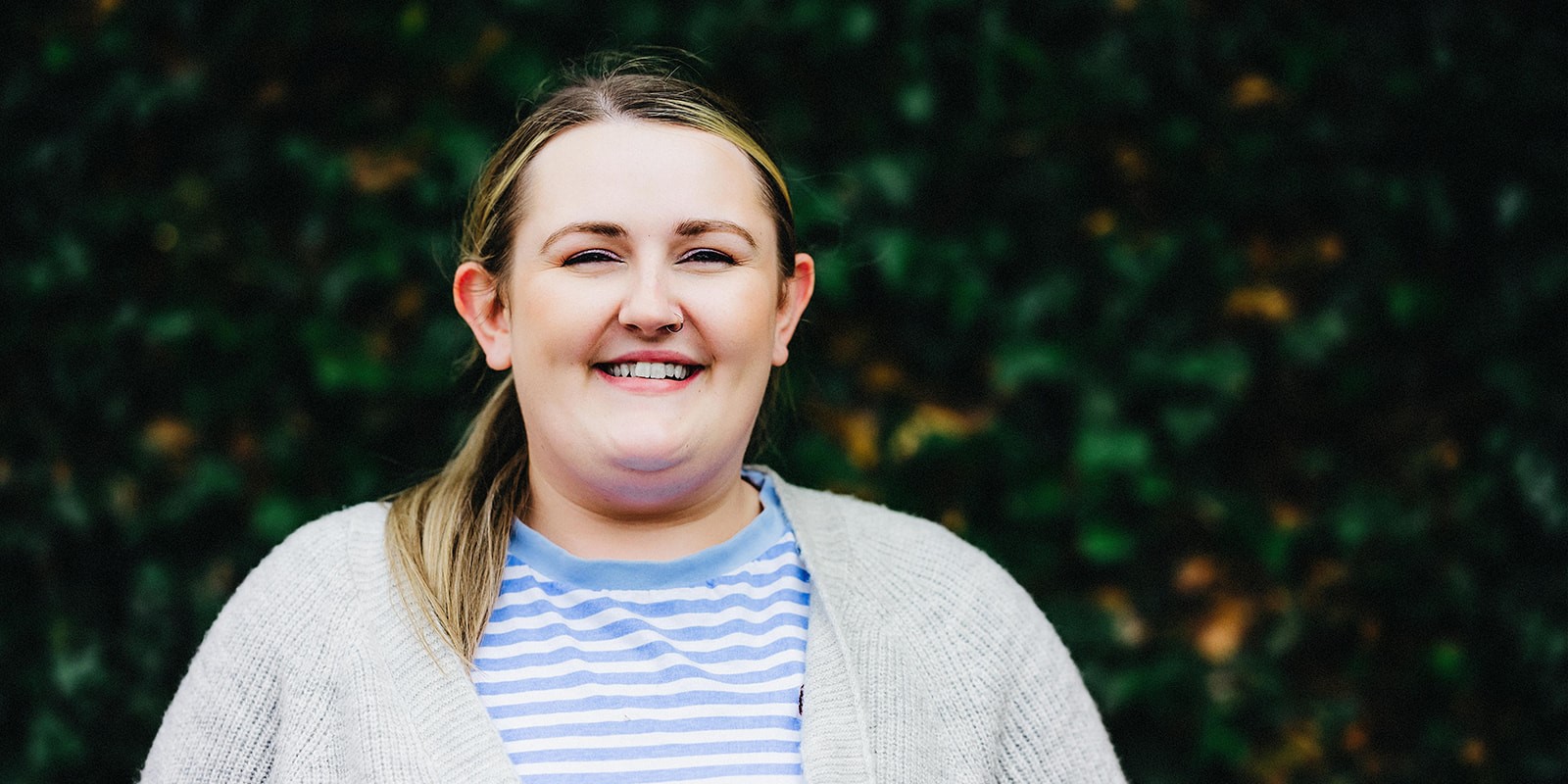 Zoe Adkins first joined ClickThrough as a web design apprentice. She has since worked in several channels and has become one of our Client Directors. Learn more about Zoe's time with ClickThrough.
Zoe Adkins is one of ClickThrough's Client Directors. Zoe joined us as an apprentice in the Web Development team in 2014 and since then has worked in the Web, SEO and Client teams. Zoe's natural ability to speak to clients and her project management skills were noticed soon after she joined ClickThrough and, as a result, saw her excel in direct-to-client roles.
Time with ClickThrough: 7 years, 4 months
Registered as: Web Developer (Apprentice)
Current role: Account Manager
Total number of roles at ClickThrough: 5
What ClickThrough saw in me
I joined ClickThrough without any marketing experience – I had left school and was working as a sales assistant. I knew I wanted to find a job that matched my skills, and I was interested in doing something web related. So when I was looking for apprenticeship training, my provider referred me to ClickThrough. I walked into the office and chatted with Al Rowe, who is still there today, and it soon became clear that the company was a good fit for me!
My apprenticeship was officially in social media, but my first role at ClickThrough was as a web developer on the web development team. It became clear pretty early on that something I was really good at was talking to clients, so naturally I started taking on account and project management tasks on my team. It wasn't strictly part of my role, but ClickThrough recognized what I was good at and my technical knowledge really helped me answer our clients' questions. My progression to the position of Web Development Account Manager felt very natural to everyone.
As an account manager, I got interested in all of what we were doing for our clients and showed a lot of enthusiasm for what other departments were doing, such as SEO and DPM. When a Senior SEO Account Manager position arose, I wasn't sure about changing departments, but my colleagues encouraged me to do so. I still had an interview process to go through, but I was offered the position of Senior Account Manager and ended up using my skills in a new department!
Since March 2020, I have been working on a large client management base, first as Senior Client Manager and now as Client Director. I no longer specialize in any department, but my past technical knowledge still serves me well, and I enjoy looking after clients and working with all of our teams to achieve the results they are interested in.
Support
I was lucky to be able to move from one department to another without losing seniority. One of the reasons I was able to do this is how well ClickThrough has supported me throughout each role change.
ClickThrough is effective at identifying skill gaps, filling them, and providing training for what we need to grow. I had a good opportunity to observe people in my new departments and ask any questions I needed before fully taking on the role. I just wouldn't have had this opportunity if I had moved to a new company to progress, and it was also nice for clients as they were quickly introduced to me as I gradually became more of a face in their meetings. .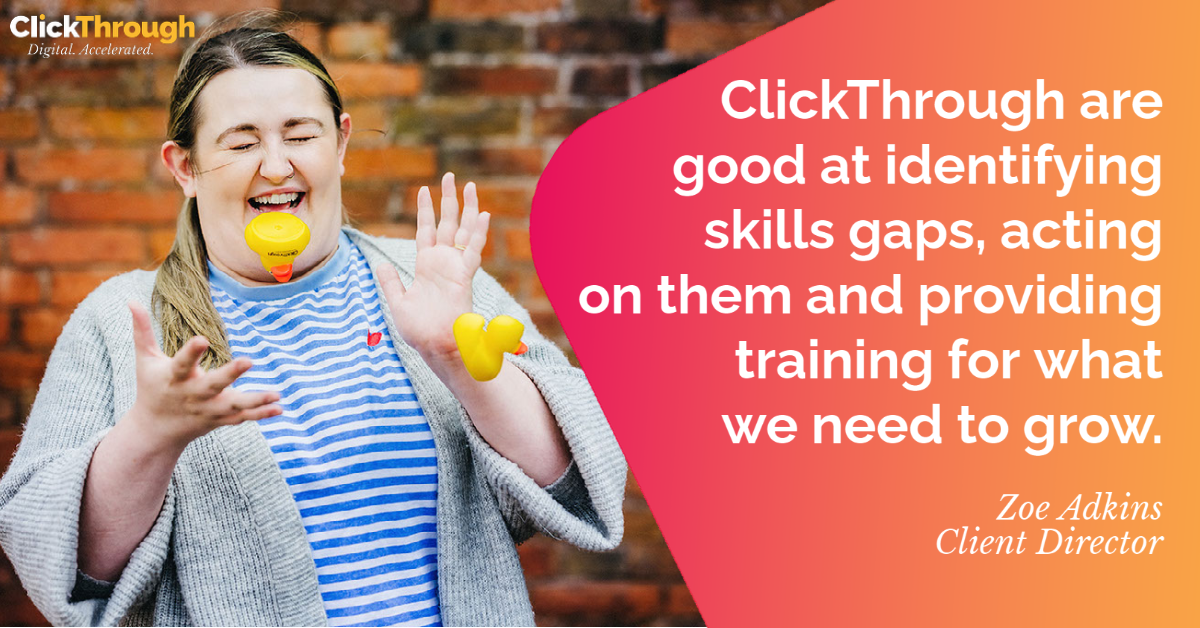 Working in different departments has made me an excellent client manager as I have the technical knowledge to answer questions and give a realistic overview of the teams' processes. When I was working as an SEO account manager, my web development knowledge gave me a better understanding of what was going on in the account. Today, as a Client Manager, I have technical knowledge from two different departments that helps me talk to clients, find out what they need and get our own teams across well.
Why I did well (and what will follow!)
I think I have done well at ClickThrough because I have always been eager to learn, I love spending time with people and I don't have to take on new challenges to grow. Respect and compassion are two important qualities to have here, whether towards your clients or colleagues – we are very good at fostering an environment in which people are comfortable being challenged and can learn from. new things, but it comes from support as colleagues & a company.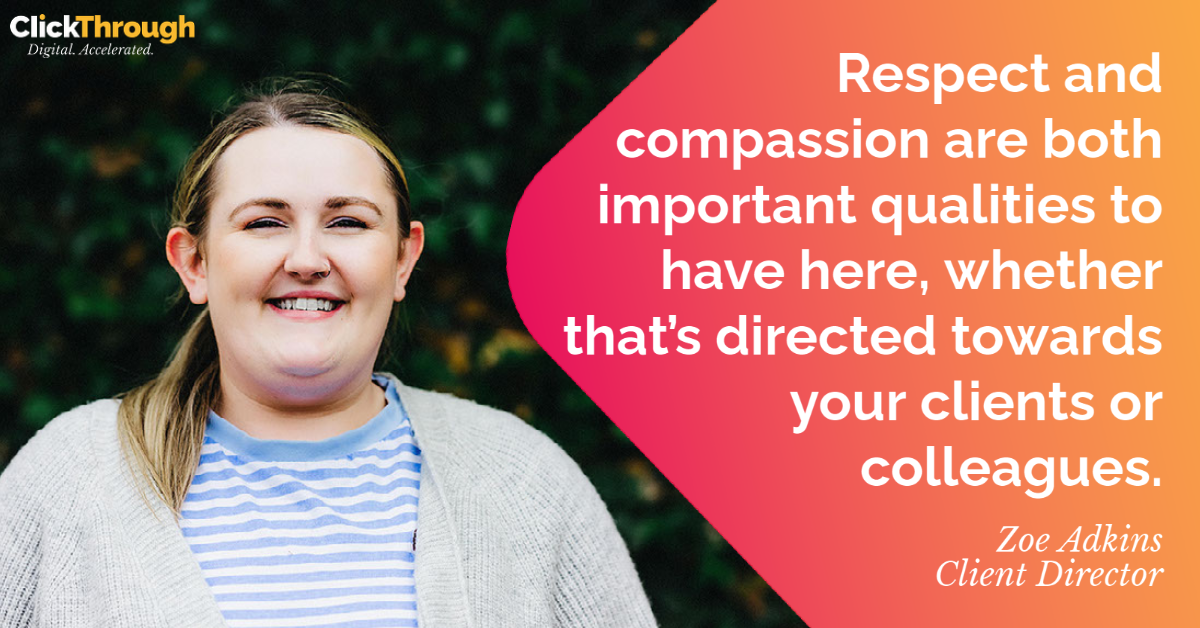 What's coming for me? Well I'm looking forward to specializing in how we improve the depth of how we look at trading strategies. This has been discussed a lot recently, as well as our new digital transformation service offering, and I'm excited to start taking clients on this journey.
I'm excited for the future of ClickThrough as the clearer progression plans that come into play will benefit everyone here. That said, there has always been an element of being in charge of your own destiny within the agency because if there is something you would like to do, you can talk to your supervisor about it and make it happen. .
Find out how Zoe and our Client Success team can help you grow your brand.